This is a Sponsored post written by me on behalf of Now Resorts & Spas for SocialSpark. All opinions are 100% mine.
The last week or so, we've been talking about where we want to go for family vacation this year. I can't help but feel a little bitten by the travel bug. Don't get me wrong, I'm a home body and could easily stay home for days on end…. but I do love exploring this great big world and all the beauty within. Especially when it comes to creating amazing memories. An escape, of sorts, is probably what we all need right now with all of winter's cold and snow and ice. Now Resorts & Spas has just the escape.
Maybe you're dreaming of your own escape to a fresh, contemporary, vibrant, and more importantly, WARM location. Now Resorts & Spas have oceanfront settings that encourage guests to live in the moment, enjoy new experiences, and create lasting memories. I don't know about you, but I could so go for creating some lasting memories at one of these resorts right now.
Features and Amenities at all Now Resorts & Spas Locations
Part of the brand's concept is an Unlimited-Luxury® vacation, where everything is included, an All-inclusive luxury resort concept. This is especially nice for guests who want the full experience but may not be able to pay for additional activities.
Now Resorts & Spas feature large, spacious suites with 24-hour room service and mini bars that are restocked daily. If guests want to enjoy dinner out, they have 7 options for dining, including all kinds of cuisines, ranging from Mexican to Italian, French, and more. Oh, and no need to wear a wristband or make a reservation. Bars are  available with unlimited beverages. Guests may also choose the option to dine and enjoy a bit of entertainment at other nearby participating resorts with the Sip, Savor & See Dining Experience.
One thing that speaks to me is that they include kids in the resort activities. Kids deserve an escape too. With an Explorer's Kids Club for ages 3-12 and a Core Zone Teens Club for ages 13-17, kids have the perfect opportunity to go have some fun of their own. And there's no extra charge! Double win! Mom and Dad get away for some time to themselves; kids get to go have some fun of their own!
Need to make a call or stay connected while visiting the resort? No problem. Guests also have access to unlimited connectivity, meaning they can call, send and receive international calls without roaming charges.
Finally, the spa…. just the word "spa" sounds so relaxing and inviting. The Now Spa by Pevonia offers indulgent treatments like hydrotherapy, massage and more. Products used include OPI and Pevonia.
Who Can Visit Now Resorts & Spas?
As you can see, anyone can travel to Now Resorts & Spas and enjoy a vacation away from it all. They cater to parents with tweens and teens, multi-generational families (maybe a family reunion?), and travelers that look for a great vacation for their buck…. those who seek value for the money they're spending on an escape. Family travel is encouraged.
Now Resorts & Spas has 4 tropical locations to choose from….
Now Jade Riviera Cancun
Located in Riviera Maya, Mexico, this particular resort is only 12 miles from Cancun International Airport. It's also near the fishing town of Puerto Morelos. Activities and amenities guests enjoy include the following:
Treasure hunt around the hotel, geared for kids
Musical trivia quiz by the pool
Free kayak tour on the beach
Live shows, including "Idol," Mexican entertainment and fire breathers
Deep sea diving (though additional costs may apply for this activity)
Now Sapphire Riviera Cancun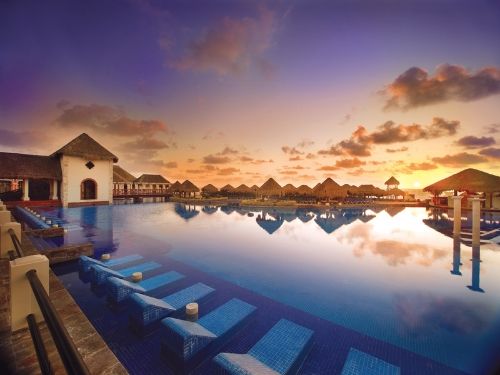 Located in Riviera Maya, Mexico, this is a AAA four diamond-award winning resort. It's only 15 minutes from Cancun International Airport. Certain famous guests, like Fergie and Josh Duhamel have stayed here. Activities and amenities guests enjoy include the following:
Oceanfront yoga
Movies on the beach
Beach sports, like soccer and volleyball
On-site Euro-bungee
Water sports, like Hobie cats, windsurfing, sailing and water polo
Now Amber Puerto Vallarta
Located in Puerto Vallarta, Mexico, this resort is right on beautiful Banderas Bay, also 15 minutes from Puerto Vallarta International Airport. Activities and amenities guests enjoy include the following:
Archery and rifle ranges
Water sports – Hobie cats
Aquatic Center and kayaking
18-hole championship golf courses, Vista Vallarta Club de Golf and Marina Vallarta Golf Club, through June 30, 2014 (complimentary green fees but additional costs may apply)
Water fun that includes an inflatable scalable iceberg, boogie boarding and water slide
Now Larimar Punta Cana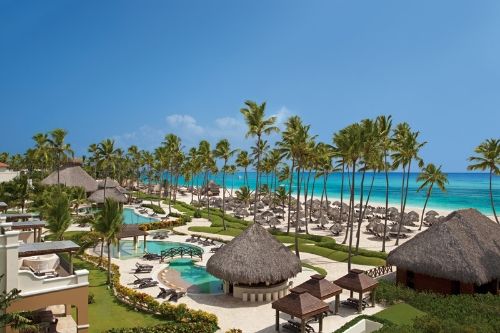 Located in Punta Cana, Dominican Republic, this resort is about 700 yards off the Caribbean Sea. Can you imagine?! Activities and amenities guest enjoy include the following:
Sports, including a baseball batting cage and basketball court
Rock climbing wall
On-site casino (additional costs may apply)
Weekly market that features local crafts, art and jewelry
Helicopter excursions (additional costs may apply)
Contact Now Resorts & Spas
Want to know more? You can call 1-877-NOW-9953.
Resort Escape Contest Details
So, I have some exciting news to share. The blogger with more shares and engagement on thier post and social media will win a trip for two to one of the Now Resorts & Spas locations. But that's not all! Not only will that blogger win a trip, but he/she will also get to award a reader who participated with an extra free trip for two. How exciting is that?! The more we share, the greater our chances will be. Where to share? Great places include Facebook, Twitter, Instagram, Pinterest, etc. Just be sure to use the hashtag #ResortEscape when sharing, and please leave a comment below for each of your shares.
So, which resort location would be your escape from it all; which escape would you choose? Which activities speak to you?
Mel is a wife, homeschool mom to 3 boys, family lifestyle blogger at
Adventures of Mel
, and lover of the outdoors. Her work has also been featured in 66TheMotherRoad Magazine, as well as with Only in Arkansas and Rhea Lana's. Mel and her family live on a small 1-acre homestead in Northwest Arkansas. You can contact Mel via email at
mel@adventuresofmel.com
.
Latest posts by Mel Lockcuff (see all)